Trusted Experts engaged in social media are 135% more effective at generating leads
The Practice of Effective Social Business Program Management
Social gives you the ability to connect human beings with one another and ignite conversations around shared topics of interest relevant to your brands priorities. So if you're thinking about social as just another channel to push content through, think again.
As you build your social program, identify insights and key learning's from your listening research. Evaluate the ecosystem of people and connections.  Think through how you can create a presence that will appeal to those you want to build relationships with and who would be best suited to be the focal point. Most likely, it's not a marketer. Rather, focus on encouraging dialogue with your employees who have expertise to share. These leaders will not only have valuable knowledge, they also hold the promise to become the most trusted and credible within a relationship.
Like any other tactic or channel, social should not be approached independently but with an eye towards fulfilling your larger objectives. As you begin to think about your social plan ask yourself what role it will play in achieving your overall goals? Defining and identifying realistic ways to measure success are critical steps in creating the framework for a successful program.

Another crucial element in the early stages of developing a social program is performing listening research – this is how you get to know your audience and come to understand where they like to spend their time online and what kinds of content and tactical approaches they are most likely to respond to.
A change Agent – The emerging role of the Social Business Manager
Social business management is undertaken by people who create and engage in social digital experiences on behalf of your brand. At IBM, there's a new role emerging, the Social Business Manager. This individual not only collaborates closely with the extended marketing management team to provide oversight for all aspects of a social business program including social listening research, planning, engagement and measurement. They also act as a change agent.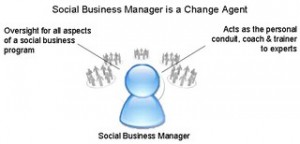 They're driving cultural change and adoption of social through their commitment to:
Work with employees as a relationship manager and coach
Provide direction to employees on relevant influencers, external brand champions, partners and competitors within specific topic area. Help employees establish priorities which relationships to focus on.
Provide supporting assets, program guidance, training and critical feedback to those employees engaged in social outreach
Through some early pilot work I've been leading, we're able to quantify that engagement with influential experts in social media is 135%* more effective at generating sales leads than traditional digital marketing tactics. Another way of saying this is, trusted SMEs who share their expertise online are 7x more likely to drive initiations with a call to action (offer) when compared to other digital marketing tactics in the same period.
This is a win-win for the brand and employees. The employees benefit from building their professional reputation and increasing their visibility in their field, while they drive the brand's influence and support lead development in the market.
If you're approach social as just another channel for marketers to manage and push content through, think again.
*IBM Select Social Eminence pilot 3Q2012
First posted at: Trusted Experts engaged in social media are 135% more effective at generating leads – Building Social Brands | Building Social Brands.
Susan Emerick is recognized by industry leaders as the foremost authority on building, implementing, and measuring successful advocacy programs for leading brands.
Susan is the co-author of The Most Powerful Brand on Earth: How to Transform Teams, Empower Employees, Integrate Partners and Mobilize Customers to Beat the Competition in Digital and Social Media – A must read for anyone striving to build brand advocacy.
Prior Susan led global enterprise social business and digital marketing programs for IBM where she led the technology giant's social media strategy including social media listening and planning, brand engagement guidelines, social media governance, policy and measurement standards.
She serves on the advisory board of Social Media Today and is an active member of the Word of Mouth Marketing Association where she serves on the Research and Measurement Council, and in 2013 she co-authored the WOMMA Influencer Guidebook. In 2011, Susan was named to the elite iMedia Top 25 Internet Marketing Leaders and Innovators.
Subscribe to OP|EN for BUSINESS!
Receive A Weekly Digest of the Most Popular Posts to Your Inbox!